Marilyn Taylor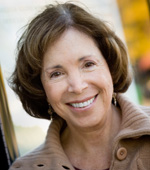 Marilyn L. Taylor is the author of five collections of poetry. Her poems have appeared in many anthologies and journals, including The American Scholar, Smartish Pace, The Formalist, POETRY, and POETRY' s 90th Anniversary Anthology.
She is the recipient of the 2003 Dogwood Prize, three Pushcart nominations, and has also taken First Place in contests sponsored by Passager, The Ledge, and the GSU Review.
Marilyn's latest book, titled Subject to Change, (David Robert Books) was nominated for the 2005 Poets' Prize. She is also the author of four poetry chapbooks, the newest of which, The Seven Very Liberal Arts, was published earlier this year in a limited edition by Aralia Press, a fine letterpress publisher.
Marilyn teaches for the Honors College at the University of Wisconsin-Milwaukee, and is currently a contributing editor for THE WRITER magazine, where her columns on craft appear six times a year. She served as the Poet Laureate for the city of Milwaukee in 2004 and 2005. [photo by Patrick Manning].
Sebastian Matthews
Sebastian Matthews is the author of the memoir, In My Father's Footsteps (Norton, 2004), and co-editor, with Stanley Plumly, of Search Party: Collected Poems of William Matthews (Houghton Mifflin, 2004), a finalist for the Pulitzer Prize.
A graduate of the University of Michigan's MFA program, Matthews teaches part-time at Warren Wilson College and edits Rivendell, a place-based literary journal. His poetry and prose has appeared in Atlantic Monthly, New England Review, Poetry Daily, Poets & Writers, Seneca Review, Tin House and Virginia Quarterly Review, among others. Matthews was a recent Bernard De Voto Fellow in Nonfiction at the Bread Loaf Writers Conference and received a 2006 North Carolina Artist Grant.
He has a chapbook of poems out, Coming to Flood (Hollyridge Press, 2005) and his first full-length book of poems, We Generous, due out soon from Red Hen Press. [photo by Alison Climo].