Philip Dacey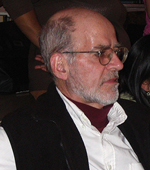 Philip Dacey is the author of nine full-length books of poems, the latest The New York Postcard Sonnets: A Midwesterner Moves to Manhattan (Rain Mountain Press, 2007). His eighth was The Mystery of Max Schmitt: On the Life and Work of Thomas Eakins (Turning Point, 2004). The latest of more than a dozen chapbooks is Three Shades of Green: Poems of Fatherhood (Snark Publishing, 2006). His sixth and seventh books of poems appeared in 1999, The Deathbed Playboy (Eastern Washington U. Press) and The Paramour of the Moving Air (Quarterly Review of Literature Book Series). Previous books of poetry include The Boy Under the Bed (Johns Hopkins, 1981), How I Escaped From the Labyrinth and Other Poems (Carnegie-Mellon, 1977), The Man With Red Suspenders (Milkweed Editions, 1986), Gerard Manley Hopkins Meets Walt Whitman in Heaven and Other Poems (Penmaen Press, 1982), and Night Shift at the Crucifix Factory (Iowa, 1991).
Much anthologized, he has received three Pushcart Prizes, a Discovery Award from the New York YM-YWHA's Poetry Center, prizes from many magazines (Prairie Schooner, Yankee, Nebraska Review, Kansas Quarterly, Free Lunch, others) and various fellowships (a Fulbright to Yugoslavia, a Woodrow Wilson to Stanford, Bush Foundation, Loft-McKnight, and two in creative writing from the National Endowment for the Arts). He was a Peace Corps Volunteer in Nigeria (1963-65) and taught at Miles College in Birmingham, Alabama, in 1966. The anthology he co-edited with David Jauss, Strong Measures: Contemporary Poetry in Traditional Forms (Harper & Row, 1986), remains in print and was influential in the development of the literary movement known as the New Formalism.
Margaret Dawe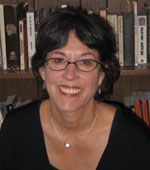 Margaret Dawe is the author of the novel Nissequott, one of the few American novels published by New Directions, a company known for its choice of distinguished progressive writers. The novel was a New York Times New & Noteworthy Paperback. She was a journalist at The East Hampton Star, where her stories won New York State and Long Island press awards.
Most recently her essay, "A killer's trail, in hindsight," on living in Wichita during the time the serial killer BTK was caught was published in Newsday. She received her MFA from Brooklyn College, her MS at Northwestern University's Medill School of Journalism, and her BA from the University of Virginia. In New York City, she studied with Allen Ginsberg and Grace Paley and in Charlottesville with John Casey and Peter Taylor.
She chairs the English Department at Wichita State University, where she has taught in its MFA program since 1993. She has completed a novel entitled Killers We Knew, which tells about a newspaper reporter who recalls seeing a murder scene as a small girl on a walk with her grandfather. During the course of investigating that old, unsolved murder, she comes to suspect her grandfather of the crime, and learns more about her own family and her failing relationship she's in with the boyfriend she hopes to marry. She has completed research for a third novel set in Kansas.