A. E. Stallings
Among the finest New Formalist poets in the world, A.E. Stallings is an American poet who studied Classics at the University of Georgia and Oxford.  She has published three collections of poetry, Archaic Smile, Hapax, and Olives, and a verse translation (in rhyming fourteeners!) of Lucretius, The Nature of Things.
She has received a translation grant from the National Endowment for the Arts, and fellowships from United States Artists, the Guggenheim Foundation, and the MacArthur Foundation.  She is also a member of the American Academy of Arts and Sciences.  She speaks and lectures widely on a variety of topics, and has been a regular faculty member at the West Chester Poetry Conference and the Sewanee Summer Writers' Conference.
Having studied in Athens, Georgia, she now lives in Athens, Greece, with her husband, the journalist, John Psaropoulos, and their two argonauts, Jason and Atalanta.
Nicklolas Butler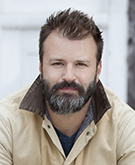 Nickolas Butler was born in Allentown, Pennsylvania, raised in Eau Claire, Wisconsin and educated at the University of Wisconsin-Madison and the University of Iowa Writer's Workshop. He is the author of the internationally-best selling novel Shotgun Lovesongs and a collection of short stories entitled, Beneath the Bonfire.
He is the winner of France's prestigious PAGE Prix America, the 2014 Great Lakes Great Reads Award, the 2014 Midwest Independent Booksellers Award, and has been long-listed for the 2014 Flaherty Dunnan Award for First Novel and short-listed for France's FNAC Prix.
Along the way, he has worked as: a Burger King maintenance man, a tutor, a telemarketer, a hot-dog vendor, an innkeeper (twice), an office manager, a coffee roaster, a liquor store clerk, and an author escort. His itinerant work includes: potato harvester, grape picker, and Christmas tree axe-man. His short stories, poetry, and non-fiction have appeared in: Ploughshares, The Kenyon Review Online, The Lumberyard, The Christian Science Monitor, Narrative, Sixth Finch, and several other publications.
He lives on sixteen acres of land in rural Wisconsin adjacent to a buffalo farm. He is married and has two children.