Joe Wilkins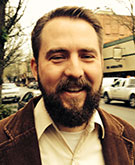 Joe Wilkins is the author of a memoir, The Mountain and the Fathers: Growing Up on the Big Dry, winner of a 2014 GLCA New Writers Award—an honor that has previously recognized early work by the likes of Richard Ford, Louise Erdrich, and Alice Munro—and two previous books of poetry, Notes from the Journey Westward and Killing the Murnion Dogs. His most recent full-length collection, When We Were Birds, was selected by Billy Collins for the Miller Williams Poetry Prize Series and is now out from the University of Arkansas Press.
A Pushcart Prize winner and National Magazine Award finalist, he has published essays, poems, and stories in The Georgia Review, The Southern Review, Ecotone, The Sun, Orion, and other venues. Of Wilkins's work, the Indiana Review writes, "The most striking component of it is its awareness of 'the whole world.' What is ordinary becomes transcendent. In places derelict and seemingly unexceptional, Wilkins compels us to recognize what is worth salvage, worth praise."
As the winner of the Boyden Wilderness Writing Residency, Wilkins and his family spent the summer and fall of 2015 living in a remote cabin along the Rogue River in the Klamath Mountains. He makes his permanent home with his wife, son, and daughter in Oregon's Willamette Valley, where he teaches writing at Linfield College.
David Steingass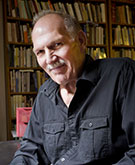 David Steingass is author of six books, including Body Compass (University of Pittsburg Press), Fishing for Dynamite, and GreatPlains: A Prairie Lovesong (both from Red Dragonfly Press), the latter of which won the 2002 Posner Award from the Council for Wisconsin Writers. He is interested especially in technical and stylistic possibilities among lineated poems, prose poems, and flash fiction.
Besides reading and writing at his Madison, Wisconsin home, Steingass presents writing workshops and has served as writer in residence in the schools.