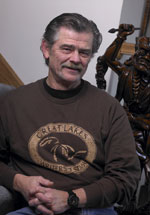 Karl Elder is the Jacob and Lucile Fessler Professor of Creative Writing and Poet in Residence at Lakeland University as well as author of seven collections of poetry, including Phobophobia, A Man in Pieces, The Geocryptogrammatist's Pocket Compendium of the United States, and, from Marsh River Editions of Marshfield, Wisconsin, Mead: Twenty-six Abecedariums. His work also appears in two editions of The Best American Poetry; A Fine Excess: Fifty Years of the Beloit Poetry Journal; September 11, 2001: American Writers Respond; Sacred Fire; Sacred Waters; We the Creatures; and several other anthologies. Earth as It Is in Heaven: An Aural Novel was released February 2016 and is available from Pebblebrook Press.
Among his honors are a Pushcart Prize, the Chad Walsh Award, the Lorine Niedecker Award, the Lucien Stryk Award, grants from the Illinois Arts Council for poetry and fiction, Lakeland's Outstanding Teacher Award, and the Robert Schuricht Endowment.
For many years and since its inception, Mr. Elder has been associated with the literary magazine Seems – originally as a contributor, followed by poetry editor, and, since 1978, editor and publisher. A member of the National Eagle Scout Association and a Vigil Honor member of the Order of the Arrow, Elder is active in Scouting, for which his sons, Seth and Wade, serve as professionals in the organization. Elder and his wife, Brenda, a CCRN, live in Howards Grove, Wisconsin.
Links